While fans have been anticipating Suga's new album, it took the internet by storm when the rapper suddenly announced a solo world tour!
Although the famous rapper and producer Suga have been on global world tours with his group members over the years, he is the first solo member to hit the road with his tour.
The news dropped on 14th Feb while he hosted a live-through through the Weverse application. Suga spoke about what he is up to, his group members, and more during the life. But what took his fans by surprise was the sudden announcement of the world tour.
The question is, which countries is he visiting? What songs will he perform as a solo artist? Is any of the members accompanying him? How do you get tickets?
Well, we are as excited as you are! We have jotted down all the details we know about the BTS Suga world tour so far, so you can prepare yourself and not miss the opportunity to grab your tickets!
BTS Suga World Tour Dates (2023)
BTS' label, HYBE, posted a world tour announcement through pictures, which Suga soon reposted on his Instagram account.
Suga goes by the username used on Instagram. He also uses another stage name Agust-D when releasing solo music/projects.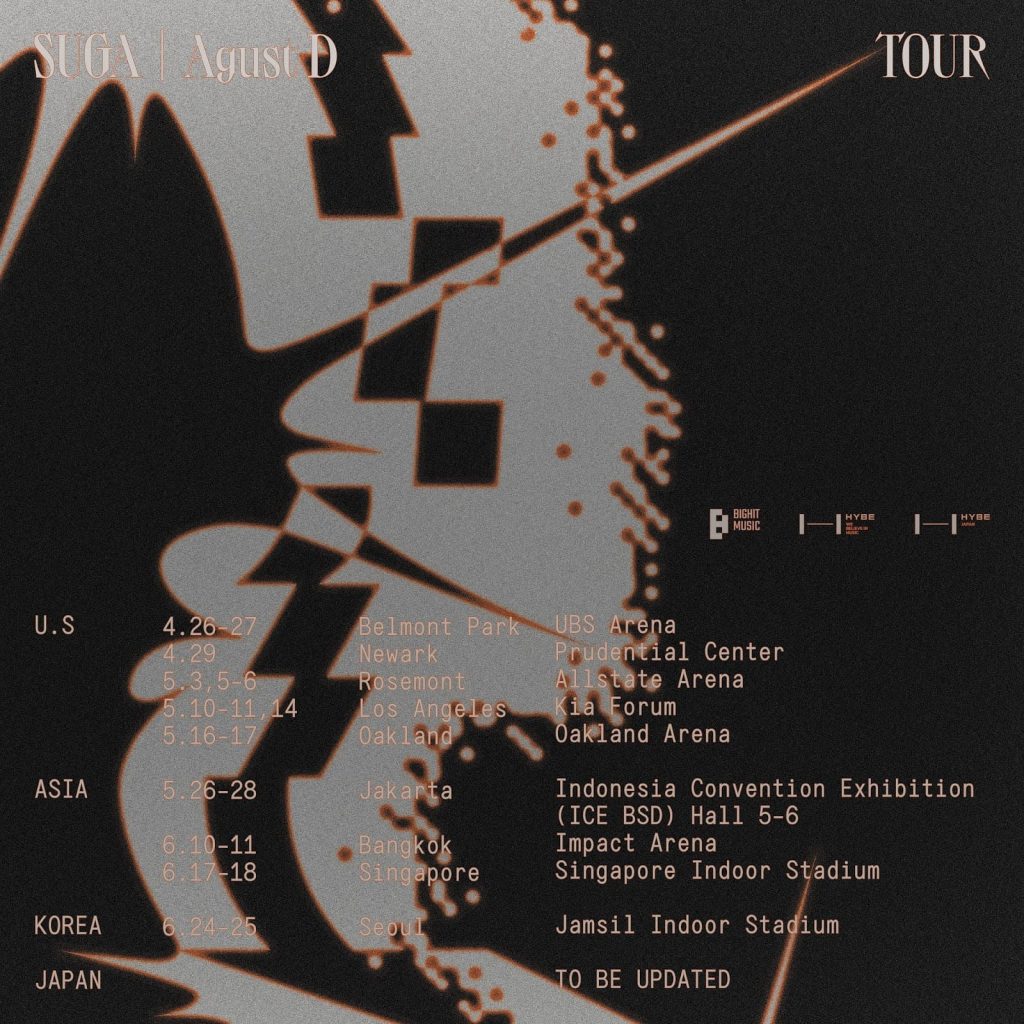 The tour kicks off from Belmont Park on 26th April 2023 (U.S.), followed by the Asian leg, where Suga will perform in 5 Asian countries. As per the tour dates, Suga is set to host 2-3 shows per city/country!
As of now, the European leg is not yet announced, which has led to disappointment in European ARMYs (BTS' fanbase). But as the company and Suga himself have not commented if the list rolled out about the tour dates was final, we are still anticipating adding European tour dates along with other countries where the fans are patiently waiting!
Here is the complete list of countries and dates:
| Date | City/Country | Venue |
| --- | --- | --- |
| April 26 -27 | Belmont Park, NY -U.S. | UBS Arena |
| April 29 | Newark, NJ -U.S. | Prudential Center |
| May 3 | Rosemont, IL -U.S. | Allstate Arena |
| May 5th-6th | Rosemont, IL -U.S. | Allstate Arena |
| May 10th-11th | Los Angeles, CA -U.S. | Kia Forum |
| May 14 | Los Angeles, CA -U.S. | Kia Forum |
| May 16-17 | Oakland, CA -U.S. | Oakland Arena |
| May 26th-28th | Jakarta, Indonesia | Indonesia Convention Exhibition (ICE BSD) Hall 5-6 |
| June 10th-11th | Bangkok | Impact Arena |
| June 17th-18th | Singapore | Singapore Indoor Stadium |
| June 24th-25th | Korea | Jamsil Indoor Stadium |
Japan is also included in the tour, but the dates and venue are yet to be updated.
When Do Tickets Go On Sale for BTS Suga World Tour?
Currently, you can register for ARMY membership pre-sale through the Weverse application. Once you register for the pre-sale, the tickets will go on sale on March 1, 2023, from 3 PM to 10 PM local time.
However, note that you need to be a member of Weverse's ARMY membership to be qualified for the pre-sale.
Additionally, you need to register through Weverse and Ticket Master.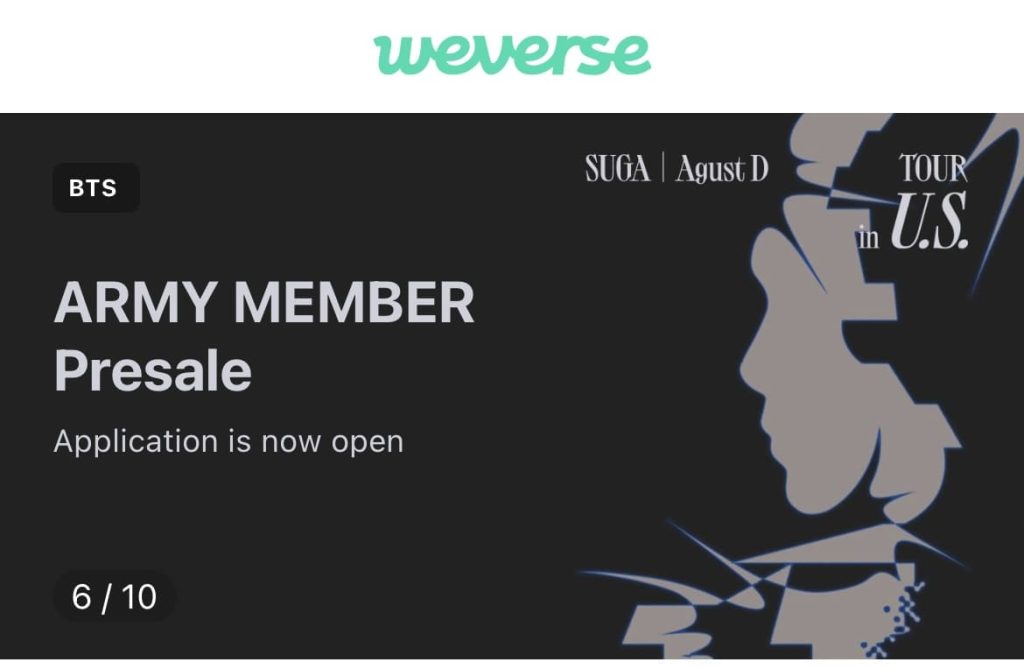 Following it, a verified fan pre-sale will commence on March 2nd, 2023, from 3 PM to 10 PM local time.
If the tickets are still available, fans can score tickets through the public sale that goes live on 3rd March 2023, 3 PM (local time).
The ticket details are only available for the U.S. tour. The ticket sale updates for the Asian countries are yet to be announced!
What is Suga Performing on His Solo Tour?
Suga being the first soloist in the group to go on tour, fans have been anticipating what he will perform. Considering the tour is based on his stage name and rapper moniker -Suga and Agust D, he could perform songs from his famous two mixtapes.
Since the setlist has not been revealed, fans are predicting he is going to release his new album before hitting the road! Well, we sure hope that prediction comes to life!
Fans can predict him performing "Agust D" and "Give it to me" from his first mixtape, followed by his major hits "Daechwita" and collab with PSY -That That.
The fans have been making different predictions about the setlist to witness his slick and rapid-fire rap delivery on tour. The excitement of hoping other members of BTS might come to perform is also speculated throughout their fandom. So, all we can do is wait until the first show kicks off!
Related Reads
Wrapping Up!
Suga is loved by his fans for his fantastic rapping, songwriting, and producing skills. The popular rapper also has won awards independently for his solo works and collaborations with other artists.
The tour announcement dropped as a surprise when the entire world thought he would go to the military soon after dropping his album. However, since Jin is already fulfilling his mandatory military service, fans think Suga will be the next member to enlist after completing the world tour, making the concert a more emotional one.
You don't want to miss out on this once-in-a-lifetime opportunity, isn't it? Well, with everyone excited to see Suga hit the road alone, we hope you get the opportunity to grab the tickets for the concert in your city!
With that, let's keep thinking about the magnificent presence of the rapper and how things will unfold for him as he enters the new chapter of his career!