The days of paying for a cable subscription to watch live TV are long gone. Sports, news, and television shows can now be streamed online without complicated installation. Various streaming services provide you with unlimited ad-free streaming. YouTube TV is one such platform that does this.
You can enrol in the free trial if you want to try YouTube TV. Along with showing you how to do it, we'll also go through how much a subsequent premium subscription will cost.
Is There a Free Trial For YouTube TV?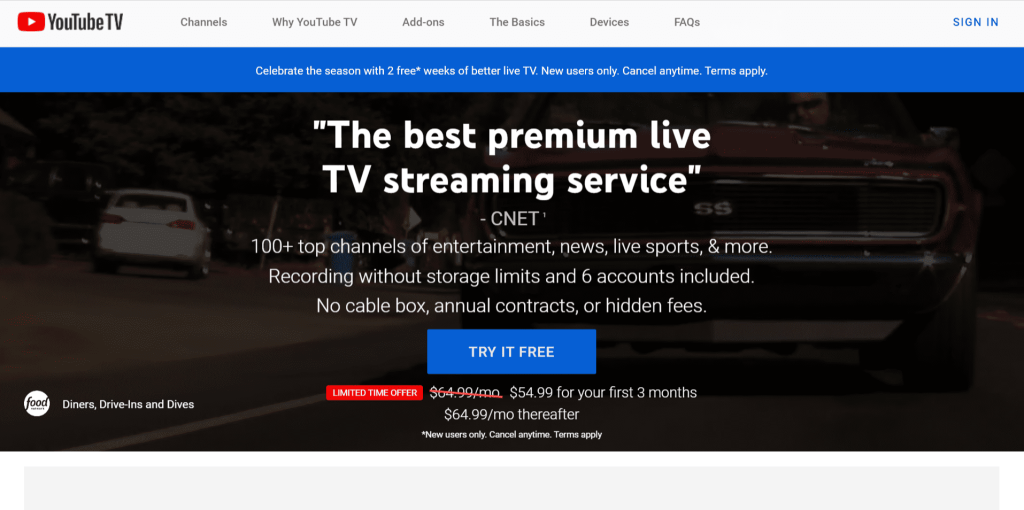 Before purchasing a membership, YouTube TV ultimately enables its users to perform a quick preview of the type of content they will receive on the service. The YouTube TV Trial typically lasts seven days. However, occasionally the web service provides a 14-day or 30-day free trial for a few networks on YouTube TV.
However, YouTube no longer supports registration on iOS devices. After signing up or subscribing to a YouTube TV subscription, you can sign in and access content on iOS devices.
Who is Eligible For a YouTube TV Free Trial?
Only new users are eligible for free trials. If you're signing up for a free trial for the first time, you might just see an authorisation hold. These authorisations take place so that YouTube can verify the card's legitimacy.
Steps to Claim a YouTube Tv Free Trial
Here is a step-by-step guide on claiming a youtube TV free trial:
You must go to the YouTube TV website to register.
Select the Try It Free option.
Register with your Google Account
Verify the location of your home
Review all of the networks that your membership plan includes
Tap next when you've accepted the terms and conditions.
Select the box next to any premium subscriptions or additional add-ons you want to use with your membership.
Include the details of your valid and accurate credit card
Your membership will be complete once you click "buy."
Voila, you have successfully claimed your free trial.
During the free trial, YouTube TV doesn't charge any fees for the premium add-on services. Therefore, you can use as many premium add-ons as you like during your trial period. Instead of the standard 14-day trial, you will receive an entire month of free service if you sign up for YouTube TV through them.
What Can You Watch on YouTube Tv?
You can watch live and local TV in English and Spanish. The genres, including sports, news, and programs from ABC, FOX, CBS, HGTV, NBC, TNT, Univision, and more, are readily available.
To check out a complete list of the channels available in your neighborhood, enter your 5-digit ZIP code. Networks also offer on-demand access to recent programming and movies.
What Types of Free Trials are Offered by YouTube?
One month's trial is available for new users through the official website of YouTube Tv. You can also avail 6-month trial after you have canceled your existing subscription to YouTube Premium or Google Play Music.
Every 12 months is limited to one trial.YouTube occasionally provides extended trials that are longer than a month.
New customers can get extended trials, or they can do so after three years of terminating their prior Google Play, YouTube, or Music Premium subscriptions. Every three years is limited to one extended study.
YouTube Tv Plans and Pricing
The $64.99/month YouTube TV subscription includes three simultaneous streams, unlimited DVR recording, 85+ channels, and six household accounts. It will be interesting to see how long this continues, given that Netflix is about to crack down on password sharing.
For brand-new clients, there is a free trial. Additionally, they receive $54.99 off YouTube TV for the first three months, a discount of $10 per month.
The following are some of the premium add-on channels available on YouTube TV:
$5/month for ALLBLK
$7/month for AMC+
$6/month for Acorn TV
Movies for $10 monthly
Laugh Dynamics for $5 per month
$5/month for CONtv
ObservationStream for $3 per month
$5/month for Docurama
$5/month for Dove
$4/month for Fandor
$6/month for Fox Nation
$6/month for Hallmark Movies Now
$15/month for HBO
$15 for HBO Max
$6/month for IFC Films Unlimited
Crime & Law for $2/month
$27/month or $130/year for MLB.TV
NBA League Pass costs $40 per month
Additional TV features
$6/monthfor Pattaya
$5/month for Screambox
STARZ Screenpix for $9/month
$11/month for Showtime
Shudder for monthly $6
$7/month for Sundance Now
Conclusion: Is YouTube TV worth it?
If you cut the cord, miss live TV, require a DVR, and stream on numerous devices, YouTube TV is worth the cost. You'll be dissatisfied if you watch a lot of local sports or travel abroad frequently.
Watching live TV, saving your favorite shows for later viewing, and streaming on-demand videos are all possible with YouTube TV. It is a direct substitute for cable and satellite television and can be accessed on various platforms, including your phone, tablet, and other mobile devices.
Related Reads