Andrew Tate has been a hot topic for a while on the internet. While many people may know who he is, some may wonder why Andrew Tate is banned. What did he do exactly?
Well, Andrew Tate is primarily banned for his problematic/hateful statements against women.
However, the more you deep dive into our article, you'll find answers regarding why social media sites removed Andrew Tate. What were his controversial remarks? Is he under custody? Did Greta Thunberg's feud get him into trouble? Etc.
With that in mind, welcome to our article: Why Andrew Tate Is Banned!
We hope it provides you with maximum clarity!
Why Are Social Media Sites Removing Andrew Tate?
Andrew Tate is cancelled from following social media sites due to his hateful and misogynistic statements against women. Plus, some of his "realistic" political views are also the reason behind his cancellation.
Instagram
TikTok
Facebook
YouTube
Twitch
Twitter
However, Andrew Tate is now back on Twitter! We'll talk about it in a little bit.
Andrew Tate's Controversial Remarks?
Andrew Tate's young fans may argue that "Andrew Tate is only empowering men!"
We are deeply sorry to burst your bubble. That is not the case. Andrew Tate embeds misogynist, playboy, and lavish thinking in young men.
Being ambitious is not bad, but losing humility and straight-up making entitled comments is not a way to go.
With that in mind, let us go through some of Andrew Tate's Controversial Remarks:
Andrew Tate believes that if a man is dating a woman, then by default, she is "his property." If the woman wants to put her intimate pictures on OnlyFans, she must give 50% of her income to Andrew, who is in charge of her body!
However, Andrew Tate doesn't believe in reversed roles.
"If a woman were to have sexual relationships with more than 20 men, she would be worthless, but if it was a guy… then the guy may fool around with 200 women. No problem. Why? BECAUSE HE IS STILL THE MAN!"
Andrew Tate is always right! ESPECIALLY if the opponent is a woman.
If Andrew's "partner," which, by the way, is never the case because Andrew Tate addresses "his girls" in very derogatory terms.
Regardless, if she is arguing with Andrew and says, "2+2=4," which is correct, of course, then Andrew Tate would keep arguing with nonsensical points and further, in an enraged state of mind, claim to "rip her arms out!"
Andrew Tate further made many inappropriate statements to shut the woman up.
We are trying our best to frame the words appropriately, but one thing to note about Andrew Tate is his way of looking at women and addressing them is not okay.
Now that we are done with the warm-up, let us dive headfirst into eyes-popping, brain-freezing, soul-leaving-your-body controversies:
Andrew Tate believes that "if a woman puts herself in a position to be raped, she should "bear some responsibility." (Wide eyes). Bless his delusional heart!
Just because a woman has a naturally smiley and welcoming personality doesn't mean she does that with any sexual intent.
Why would she "bear responsibility" for an assault she didn't verbally consent to?
Andrew Tate had openly accepted physical assault against women. A viral video featured him beating a woman with a belt. However, the featured woman came forward and admitted to giving her consent in the sexual foreplay.
According to Andrew Tate, Romanian Police is light against sexual assault investigation. Hence, justifying his sudden move to Romania.
Speaking of his Romanian house, it was raided in the warrant of human trafficking: shockingly, police found an unidentified woman captured against her will. For privacy purposes, her identity is kept anonymous.
In response, Andrew Tate denied the allegations, saying, "nobody was found at my place. There was no arrest. When people want to cancel you, it comes HARD!"
In this particular statement, we sympathise with him.
In Andrew Tate's words, "The woman willingly showed up at my place because she wanted to hide from her partner."
Allegedly, the woman's boyfriend started the "human trafficking" fiasco.
Moreover, the woman also proved Andrew right by admitting her will to be there.
Is Andrew Tate Back On Twitter?
Yes, Andrew Tate is back on Twitter. Not because Elon Musk has remarkably "forgiven" him but due to the sudden reactivation of all the suspended accounts.
If you thought Andrew Tate might take this moment for redemption, you're mistaken.
On top of all the heated controversies, he initiated a new one.
Previous morning Andrew Tate tagged Greta Thunberg in a Tweet: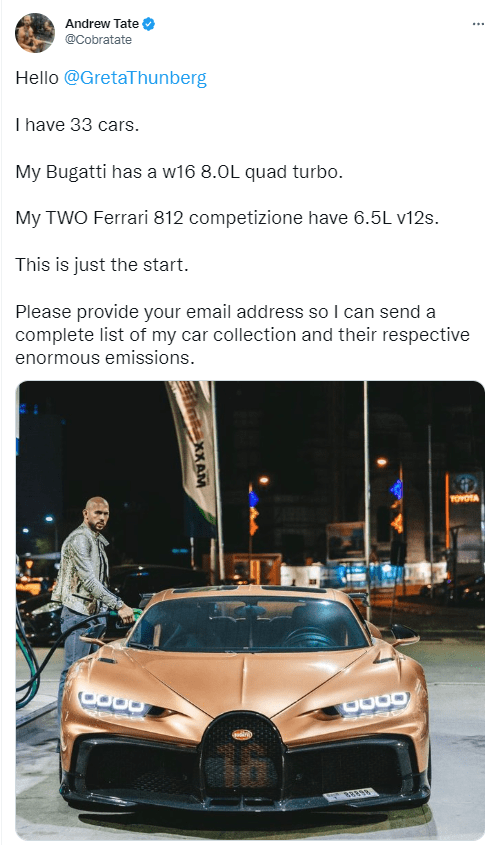 Receiving a thundering response in return: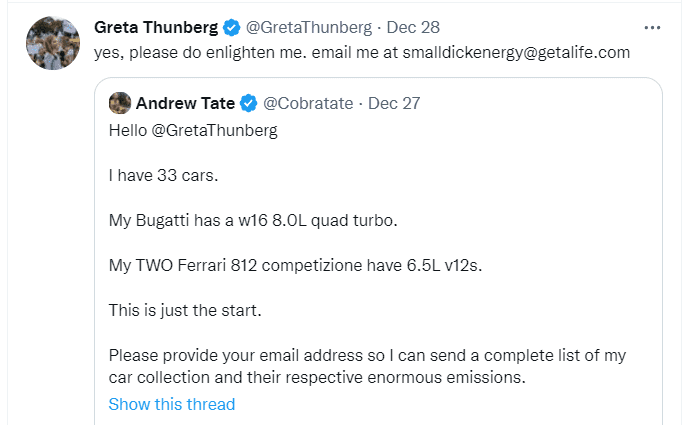 As discussed in the previous section, Andrew Tate doesn't like losing a fight.
ESPECIALLY against a woman. So, he made a mocking video in reply, further helping Romanian Law Enforcement to track his location through the location mentioned on the Pizza box.

Where Is Andrew Tate Now?
Currently, Andrew Tate is under Romanian custody for investigating Money laundering, Rape, and Human Trafficking.
Tristan, his brother, too, was in custody. However, they did not find any evidence against him, leaving them no choice but to let him go. If they found no solid evidence against Tristan, then chances are, they won't find anything against Andrew either.
We suggest you keep up with the article, and if there is any updated information, we will keep you informed!
Conclusion: Why Is Andrew Tate Banned?
Andrew Tate has made many misogynistic statements and encouraged young men to subscribe to his "learning," which doesn't provide much more than what you can easily find on Google's front page.
He also commented about some influential figures (whose information may or may not be true). But that did get him into serious trouble.
In conclusion: Andrew Tate is in a mess from all sides.
Also, as this topic is currently trending, we are sure more information will be on the horizon. So please, keep checking our page for updated information!
FAQs
Is Andrew Tate back on Twitter?
Since Elon Musk reactivated all the suspended accounts, Andrew Tate is on Twitter.
Is Andrew Tate arrested?
Yes, Andrew Tate is under Romanian custody right now. All thanks to the pizza box visible in his recent video.
Related Reads