Peacock is yet another movie streaming application which has gained enough recognition for the wide range of content and entertainment that it promises to its viewers. Generally, we as viewers look for a free trial period before we invest money in the premium plans, so today let us discuss everything that Peacock offers from free trial to all the premium plans, let us explore details about it.
Does Peacock offer a Free Trial?
Yes, Peacock offers a 7-day free trial to its new subscribers. In this free trial period, you can access most of the Peacock premium and peacock Premium Plus content which includes the latest released TV shows, movies, live sports and much more.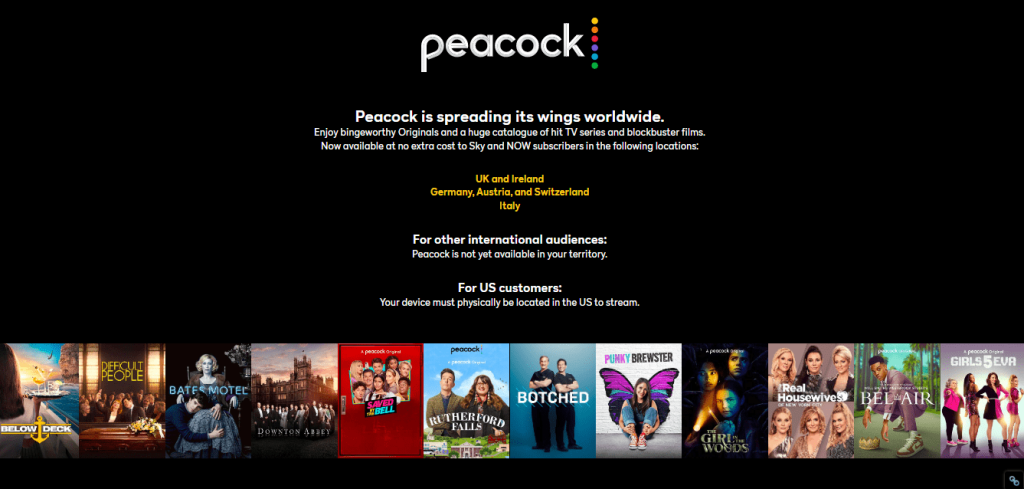 In this 7-day free trial, one can experience the Peacock services and make the necessary decision if they wish to continue with the premium paid plan after the trial period ends.
How to sign up for Peacock TV Free Trial?
Follow these simple steps to sign up for the free trial of Peacock
Go to their official web page www.peacocktv.com or download their application from Playstore
Log in with your email address
Follow the on-screen instructions and fill in the payment details eventually
Note: The details required are email address, and payment details [debit or credit card]. Payment details are asked to start your premium plan after your free trial ends, if you choose to become a premium member then you can choose the paid plan and continue using the Peacock tv ad-free.
If you don't wish to continue after your 7-day free trial, it is recommended to cancel your membership before the trial period ends to cease any cost deduction from your bank account.
What does Peacock offer to its viewers?
Peacock TV has thousands of old and latest movies and TV shows in various genres. Some of the most anticipated shows and movies streaming on Peacock TV include One of Us is Lying, Saturday Night Live, Modern Family, Suits and much more.
Just like any streaming service Peacock also offers its own collection of original shows and movies. Some of the famous Peacock Original shows and movies streaming are The Resort, Shadowland, Hell of Cruise, Meet Cute and many similar types of content exclusively available only on Peacock TV.
All about Peacock premium plans
There are two types of premium plans that Peacock TV offers:
If you have decided to go on with the services of Peacock with their premium plans then the first option you can consider is The Peacock Premium Plan which costs $4.99 per month and $50 yearly.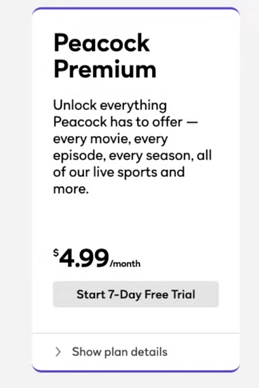 Now let us discuss everything that the Premium Plan will unlock for its viewers. This premium plan will give access to the original content with some ads scattered here and there just like the free trial version has. In this plan you have to wait for one day to watch the latest episodes, you can access the latest episodes the next day after it releases.
You can watch the latest TV shows, movies, sports events and much more. However, some of them have limitations in watching it the next day. Some of the premium content includes: Keeping Up With The Kardashians, The Office, New Amsterdam and many more similar options available.
Peacock Premium Plus is the second option for the premium plans offered by Peacock TV. Peacock Premium Plus unlocks the entire library without any ad interruptions. The subscribers can download the content to watch it offline. The cost of the Peacock Premium Plus is $9.99 for a month and $100 per year.
Peacock offers discounts for its viewers so keep an eye on its official page for future discounts and deals offered by them. They had lowered their cost for the premium plan in September 2022, it lowered its cost to $1.99 per month.
Conclusion: Peacock Free Trial
Lastly, I would like to conclude this article on this note that you should start with the free version of this application before you plan on being a member of the paid plans that it offers. The premium plan has few ads and more or less all types of content included. However, if you are someone who dislikes ads even after subscribing to the premium plan then it is recommended that you choose the Peacock Premium Plus plan.